Lake Erie Fishing Charters
 Two, Six, Eight Passenger
Lake Erie Charter Fishing Boats
Port Clinton.
Drift Fishing & Trolling
Ice Fishing

Now Booking 2023
80 Million Walleye & Lots of Big Ones
Lake Erie – Port Clinton
Awesome Walleye, Bass and Perch Fishing

Lake Erie Walleye Fishing Out Look 2023
Fantastic as good as it gets with average hatches, super walleye hatches, above average and near record hatches the last seven years . Expect fantastic walleye fishing from Lake Erie in 2023 and years to come !
Pictured above:
Eighteen to twenty six inch inch walleye will be the bulk of the catches in 2023.
Three to six lbs. and lots of them.
Cold water big fish.
Now Booking jig fishing and trolling for trophy walleye Mid March at ice out.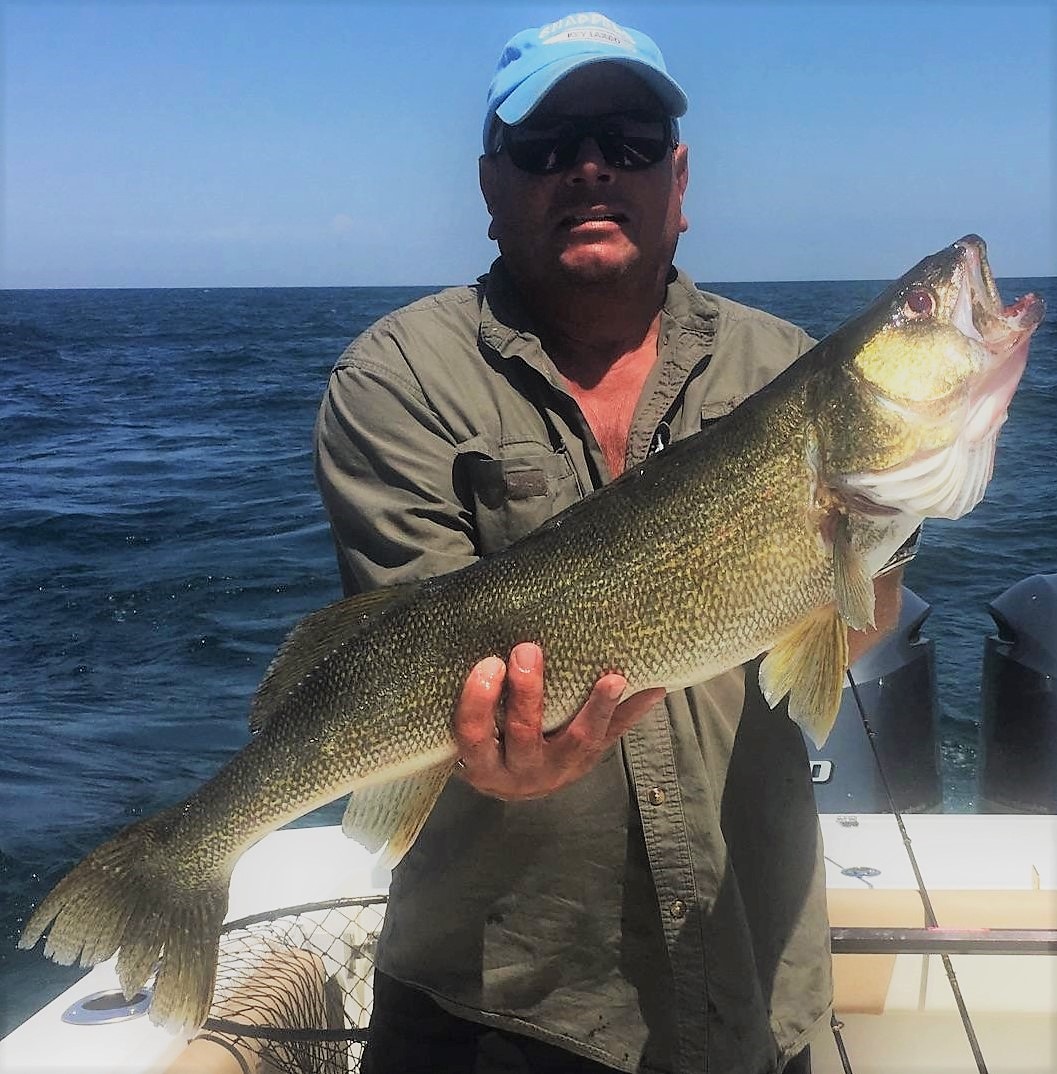 Capt. Dave's Lake Erie fishing charter boats near
Port Clinton offers two, six and eight passenger charter boats fishing
Ohio's Western Basin of Lake Erie where Walleye catches are in the millions every year!
Experience The Best Walleye Fishery in the World. The promised land for fisherman! Lake Erie offers anglers exceptional walleye, perch, and bass fishing year round. Coe Vanna charters LLC is located near Port Clinton providing Premium Island Hopper Fishing Charter Boats.
These commercially constructed boats are fast and spacious.
Providing twenty five percent more deck space and fishing room than the average 30 ft. Sport craft fishing on Lake Erie.

Drift fishing with calm to light winds can be non productive at times.
That's when trolling makes the difference! 
Lake Erie walleye video click here
Sept Lake Erie Bass fishing video 
Sept Small mouth Bass Fishing video
August Smallmouth Bass Fishing Video
::::: Learn More 2023 walleye population and charters
Welcome to Lake Erie The Walleye Capital of the World
According to ODNR 80 million two to eight years old and older 
walleye are in Lake Erie right now.

Walleye Fishing Outlook 2023 Exceptional
Lake Erie Walleye Fishing Video 

Smallmouth Bass Fishing Sept video
July Perch and Bass video
July Lake Erie Bass Fishing Video 
July Click for Recent Catches Video
July 1 – Click for Recent Catches Video
June Walleye Limit Catches 
Lake Erie Walleye Limits June  
View our recent catches under fishing reports.
---
 Lake Erie Walleye Fishing Charters
Lake Erie walleye charter fishing trips start just after ice out (mid-March) drift fishing or trolling. This is trophy walleye fishing season for charter boat captains fishing on Lake Erie's Western Basin- Port Clinton. Coe Vanna charter captains are professional Lake Erie walleye fishing guides.  We offer Lake Erie fishing trips specializing in drift-fishing walleye charters using light spinning tackle casting and retrieving spinners. On Lake Erie, it is common aboard Coe Vanna Charters to catch boat limits of walleye.
Best Months for Lake Erie walleye fishing charters
  April, May, June, July, Sept, and Oct.
::::: Learn more about Walleye Fishing

---
Coe Vanna offers you the best Lake Erie charter fishing options on Lake Erie.  Drift fish or Troll   –  Handicapped customers welcome. Young – Elderly Handicapped alike everyone gets in on the action!
---
Lake Erie Smallmouth Bass Fishing Charters
 Bass fishing on Lake Erie is considered to be one of the best smallmouth bass fishing lakes in the world, 5 to 7lb bass are common!  Captain Dave is a top Lake Erie smallmouth bass fishing charter captain – guide. The western basin reefs and Islands of Lake Erie has the finest smallmouth bass charters and arguably the best smallmouth bass fishing trips in the United States can be found near Port Clinton, Ohio.
Best months for Lake Erie Bass fishing charter trips. 
July-August -September, and October.
::::: Learn more about Smallmouth Bass Fishing

---
Lake Erie Perch Fishing Charters
Coe Vanna provides Lake Erie perch charters starting in July and running through October. As waters cool in late summer yellow perch schools move inshore and are caught fairly easily. Jumbo perch are caught in deeper water in Sept. and Oct.   A great trip for kids – lots of action!  Prize table fare – food quality excellent.
Best months for Lake Erie perch fishing charter trips.
June, July, August, Sept., and Oct.

::::: Learn more about Perch Fishing
---
Lake Erie Combo Fishing Charters
Walleye, Bass, and Perch, July – August & September
 Walleye, Perch, and Bass are plentiful on Lake Erie's reefs.  Reefs attract fish and the western basin reef complex right by our marina. makes Lake Erie offers amazing combo fishing trips. Lake Erie walleye limit is six per person per day. It is common to catch your walleye limit in a couple hours on Lake Erie.
::::: Learn more about Combo Fishing
---
 Lake Erie Fishing Charters & Lodging Package Prices
Lake Erie fishing charters and lodging – convenient one call charter and lodging booking.
Full size furnished mobile homes located right at our marina Wild Wing's and
 First Class Lodging at our Country Lodge three miles from our marina.
::::: Learn more about lodging
---
Coe Vanna – Lake Erie
Fishing Charters – Port Clinton, Sandusky, Marblehead, and Toledo areas.
   "Lake Erie  fishing charter boat service on Lake Erie Since 1973 "
Walleye-Bass-Perch
Welcome aboard,
Coe Vanna Charters and Lodging LLC
Capt. Dave & Coe Allen Whitt
Call or text  419-355-4732