Coe Vanna Charters & Lodging LLC
  Capt. Dave,
I am not alone when I say we had a great time today as we managed
to get our limit.Captain Coe was a great help. He kept us on the fish
consistently.
We fished 3 differtent rigs and had success with all 3.
Coe was enthusiastic about his job and it showed.Coe put the customer first at all times.
We will be back and hopefully Coe will be available to Captain our
boat again.
Thanks for all you do.
Good fishing,
David A. Hornung
May 5, 2018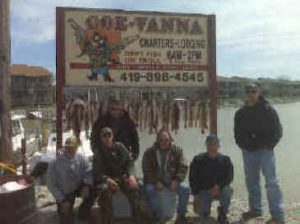 Capt. Dave
After fishing with you the last 17 years, We still look forward to fishing with you every spring and you never let us down. Its great to see your son Coe following in your footsteps, even sometimes out fishing you. We again caught a lot of Walleye and had a good time on the boat with you, catching and missing those Walleye.. See you again in May and again next year. Get a bigger board so we can show all the fish we got. Fast Eddie and the Williamsport Pa gang

Hi, my name is Bob Duval and I am with the party fishing on April 23rd and 24. Just wanted to let you know we are looking forward to fishing with you guys again this year. This is my 2nd year and John Otts 4th or 5th year I think but just wanted to let you know how excited we are again this year and what a great time we have. We had gone out with Captain Coe Allen last year what a wonderful guide he was and a good person to be around so can't wait to go out with him again this year.
Thank you very much to Coe Vanna Charters see you guys soon and save us some big eyes thanks. Bob
What a great time we have fishing aboard the Coe Vanna
Capt. Dave is the best on putting you on fish!
Thanks again Capt. Dave and crew.
Anthony Wright 

Hey Captain Dave, thanks for the good time fishing last Saturday. Everyone had a great time. The cottage was great as well. I will see you along with a few of my fishing buddies in late April or early May. We will probably stay two nights. Thanks again !!!!!
Mike Wall
Capt. Dave & Capt. Coe, 
Thank you once again for another great fishing trip!
I only wish you guys were close enough to join us at
one of the many fish fries we will be having
in the near future.  My son said the trip was the best
birthday present he has ever gotten in his whole life.
I think we may have to bring him back for his 13th birthday
to see if we can top it.
I've attached several photos from our trip.
Feel free to use them as you see fit.
Expect a call from me next year as well.
Have a great winter in Florida.
Thanks Again!! 
Joe Stepping
Thank you so much for an awesome fishing trip! It's an experience me and my dad will never forget!
We will be back soon!
Thanks again
Wyatt Hopper

Corey was great! We had a fun time. Will be back next summer for sure.
Thanks!
---
We fished 3 days with these guys – great bunch of guys running those boats for Capt Dave Whitt.  My group had a blast can't wait till the fourth of July for some more live action Bill Oros
Just got done with two days of fishing with two of the best captains we have ever had.  Rizzo and Coe Allen.   – Jerry Huber
Blake, it's spelled Bruce Moeser LOL. We had a great time thanks to Blake, Cory, and Nick.  See ya next year. Ya, ya Jeff's a nice guy too. Bruce Moeser
Had a great day fishing with ur charter, Dennis was a great captain, we will be back for some ice fishing,  thank you. Terri Hyster
---
Dave, We had a great weekend. Please tell Dennis thanks so much for all of his help w/ my dad. He really watched over him when the water got rough.sure hope I'm able to fish like that when I'm 87. Thanks again, Kevin Spees
Paul D May 27
We would like to thank Coe-Vanna Charters for the last 3 days and letting Jeff be our captain! He did a great job with the other 2 old guys Ronnie and Duwayne! Think Jeff needs a medal! We limited all 3 days with walleye more than limited with sheep head; white perch and white bass! Thanks again and will recommend Coe-Vanna Charters to anyone looking for a place to go! Thanks, Paul D. and friends from Wisconsin!
---
Just wanted to say thank you for your fishing reports they are very interesting and helpful in my search of the elusive walleye we fished Erie in the mid eighty's early ninety's when it was easy to limit consistently just got back into Erie 5 years ago and after getting beat to death in my 19ft Lund boat brand new parker last year your reports have helped me a great deal have read them back as far as I can find them trying to compare past and present times have never met or fished with you but would absolutely recommend CoeVanna thanks again for all of your insight looking forward to this fall sincerely
Jeff Heck
Sent from my iPad.  August, 13-2011
Thanks, we had a great time going to tell more people about
ya, tell Jake we said great trip and hope to see you guys next year.
Mark Echard and friend
Small crew fishing on the Key Largo.
Meant to send this earlier. I was with the Thacker crew. We had a great time and I cannot tell you enough how much we enjoyed Coe. Thanks and we will be back.  Dick Stark 9-26-10
July 5, 2010
4 Adults 3 Children
Canadian Smallmouth
Dave,
We had the best smallmouth day of our lives.  All day you kept moving with the fish, putting us on one great -spot after great spot.  You took care of everything for the kids, so we could fish.  The only things you did not do, were to "fish" for us, like – cast- set hooks.  After looking at the photos and notes, we caught about 70 total – 4 @ 19+",  40 to 50 @ 16-18″, and 16 to 26 @ 14-15″.  Everything was included, you gave me a quote per person including the soft craws and Canadian Fishing License, there were no hidden fees.  I can guarantee we will fish with Coe-Vanna Fishing Charters again.
The Hartlines
Hello, Dave just a line to let you know that my group had an enjoyable time and we will for sure go out on your charter again.
Gerald Lovell

Coe,
A couple of pics from our trip last week. Nice job finding the smallmouth. Had a great time! See you next year!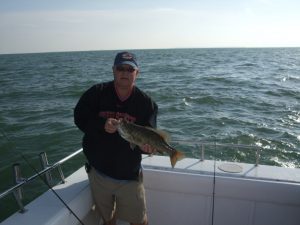 Captain Dave,
Attached is the photo when George and the rest of us were there.  Thanks again for a great trip.  Looking forward to another great trip next year.
Jerry Davis
6/17/2008
Hello,  Capt. Dave
I just wanted to thank you and your son for a fantastic fishing trip. We have been chartering for the past 4 years and have never caught fish like that ever before! You should be very proud of your son, he was very professional and very exciting. You can plan on us booking early June next year.
Thanks again,
Gerald W. Robinette
Charter July 19 – 20
Dave,
Just wanted to drop you a line to tell you how much we appreciate the hard work from your captains. We all had a great time and hope to make another trip soon. Although we have about 75 pounds of fillets to eat they won't last long believe me. We are already planning a Hawaiian luau and fish fry. Well -thanks again for all your help and hope to see you soon-sent along a picture of my crew. Scott
Dave
Thanks for another great three- day fishing trip with Coe Vanna Charters.  I believe Jeff passed it along to you to pencil us in for next year, same -time- same place.  Jeff was great as usual, and you're doing some nice things to
the trailers—– looking good!!  Oh yes, the Gators couldn't have been better cooperative.  Last year's class of fish grew some.  Nice – average length and nice and fat.  Could not have asked for a better mess of fine eaters.
You are doing such a good job, my list of want to go is growing.  We may need a second trailer and the ten-man boat—— maybe??  Send me some info on that setup.  Say hi to my favorite dance instructor/ walleye killer.
Mike Smetana
Dave,
I just wanted to thank you for a great day of fishing this past Saturday,  June 16th.  We had such a great time, my dad and I will bring up another crew this Thursday.  Can't wait to fish again!  To my understanding, we won't be with you this time around, so I can only hope your other skipper is as great as you are! (and I am sure he is)  Anyway, I just wanted to send you a note of thanks for a great day of fishing and looking forward to another one.  You are the best captain that I have found so far on the lake. I really enjoyed the day with you.  You were very friendly and yet professional.  Worked well with those on the boat having a hard time.  Again thank you very much!
See you on Thursday,
Eric Hummel
(i was the only one smoking of your customers if you remember, the other big bald guy…lol)
Capt. Dave
I just wanted to thank you for a great trip!!!  Even though the fishing wasn't as good as I had hoped it would be we all still had lots of fun and you helped make it fun by your great personality and hospitality.  I definitely liked you guys better than the other out – fitters I have fished with and I will be planning another trip for next year if you are willing to have me back.  Hey if you have knees try and see if maybe you can get Partial knees done that would be a quicker recovery time and less pain.  If you have any questions give me a call and I would be happy to help you out with that.  I've been treating knees for 4 yrs or more now.  Well, thanks again and good luck with the rest of the season.
Brian Arny
Dave, Here are a few pictures of our fishing trip.  We all had a great time thanks to you and your crew.  We'll be back.
---
Dave and Coe,
Just wanted to say thanks again for a great weekend of fishing.
Attached are some of the pics of the 20" smallies.  Everyone had a great time.
Regards,
Dwight Mitchell
Capt. Dave,
I just wanted to tell you how much I enjoyed fishing with your son Coe. I was particularly impressed by the obvious pride he has in
his work and his patient indulgences of an old fart who can't just shut up and fish. I really enjoyed the day, you are indeed a blessed man.
Thank you also for making the fishing trip with my father Rodney possible. You guys are a class act. Hope to fish with you again soon. Todd
Captain Dave,
Thanks for taking us all out with my Dad, Rodney Crowder on July 30, 07.
We had a great day and we especially appreciate the way you have
accommodated dad's trouble with the damned neuropathy in his feet over
the last few years.   It's getting tougher on him and any chance he has
to get out there and do stuff is the best medicine.
---
June 4, 1990
Dave just a note to say [ Thank you ] for all the curtseys extended to the Hall family while on your June 1 charter trip on Lake Erie. A wonderful day with an excellent Captain and a nice group of individuals will long be remembered. I wish you success in all your endeavors and look forward to another trip with you in the future. Harold Hall