Lake Erie Fishing Charters-Port Clinton.
 Lake Erie charters fishing for walleye-bass-perch at it's best with Captain Dave's Lake Erie charter fishing boats – Port Clinton, "Lake Erie Fishing Charters" on The Walleye Fishing Capital Of The World-Lake Erie. Coe Vanna charters offer Lake Erie fishing expertise drift fishing walleye using medium light fishing tackle- casting spinners catching limits of Lake Erie walleye- bass and perch pretty much on a daily basis. Experience the thrill of hands-on drift fishing charters on Lake Erie aboard Coe Vanna Charters." Lake Erie Charters Fishing"- U.S. & Canadian waters.
Coe Vanna offers some of the most versatile Lake Erie charter fishing boats on Lake Erie's Western Basin-Port Clinton, OH.   Two – Six and Ten Man "Lake Erie charter fishing boats".  
35 YEARS Experience A Definite Edge.   
 Short Notice weekday bookings save 10 %
April Specials 4-hour limit out trip $400.00
Text or Call Capt Dave 419-355-4732 
April Jig Fishing Catches Pictured below!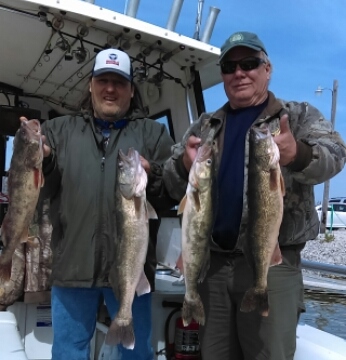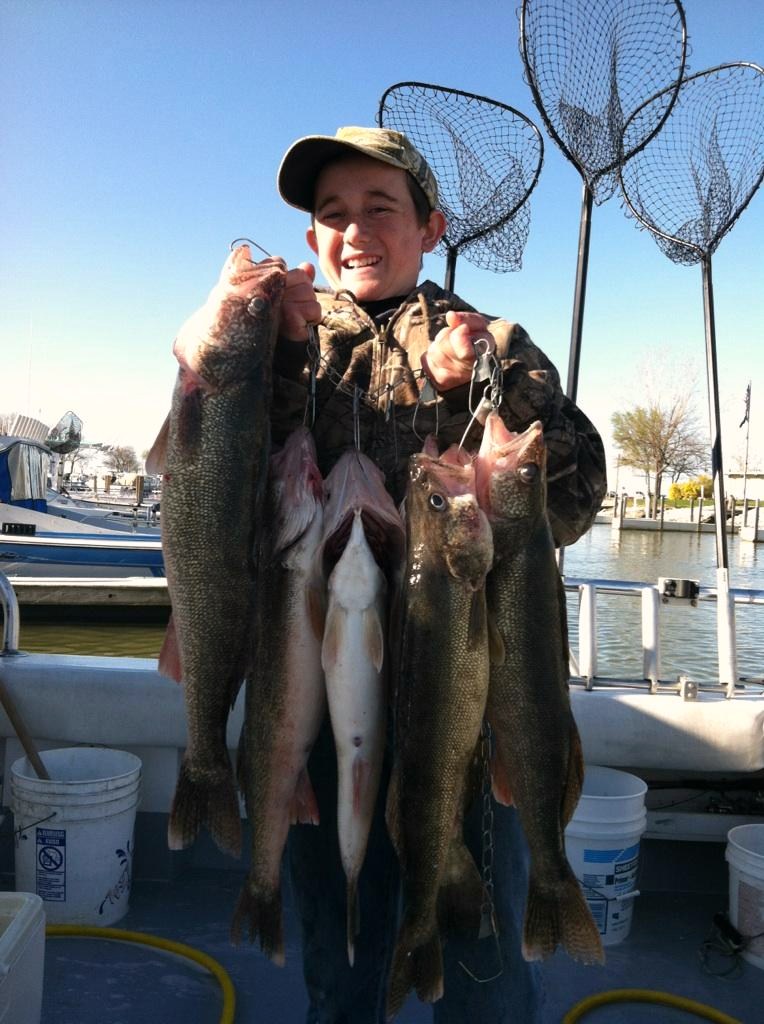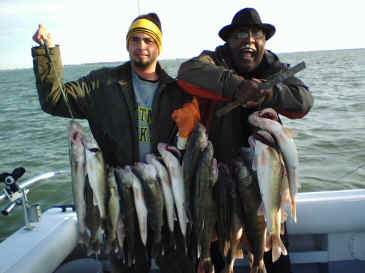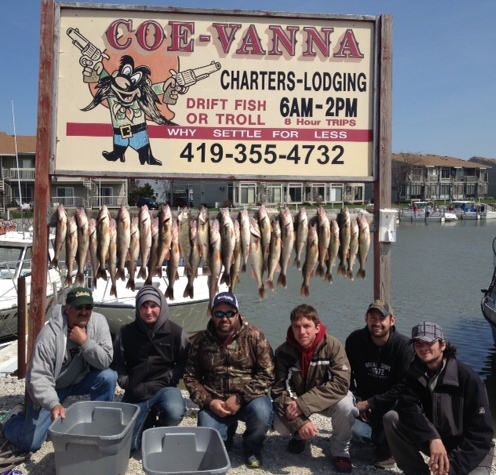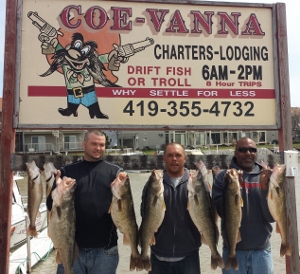 Coe Vanna Charters & Lodging Video Link
Lake Erie's Western Basin, Port Clinton is set for prime walleye and perch fishing for the next 7 to 10 years!  Walleye hatch near record in 2014 – followed by a well above average hatch in 2015. These walleye are now three-year-olds measuring 18 to 20 inches 2 to 4 lbs and will be filling the coolers starting in April. Fishing charters on Lake Erie anticipate excellent walleye and perch fishing in 2017. 
Fisherman's Lodging & Country Lodge
Full Size Furnished Mobile Homes located right at our marina – Wild Wings and our First Class Country Lodge is located three miles from Wild Wings Marina.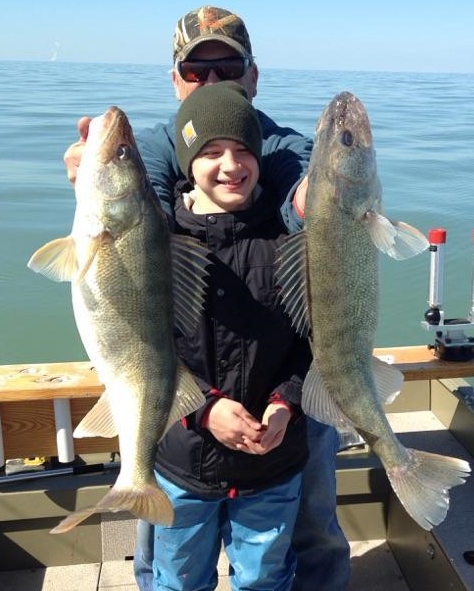 Lake Erie Drift fishing charters. Fishing light spinning tackle casting and retrieving gold spinners excites anglers with hands-on fishing. We catch limits of Lake Erie walleye on a regular basis. 
We will also troll upon request.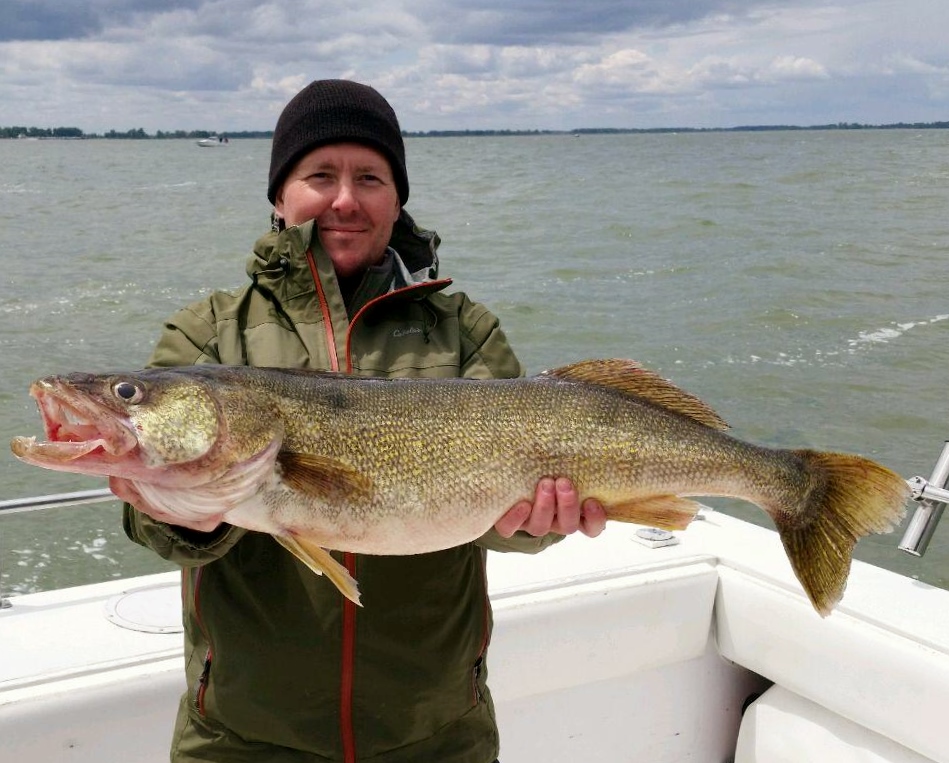 Monster Trophy walleye caught May 17 Drift Fishing – JIG fISHING – 34 INCH – 14 1/2 LB. Potential New State Record  She was spawned out. Current Ohio state walleye record 33 inches
 Coe Vanna offers you The Best Fish Catching Options on Lake Erie! Drift fish or Troll   –  Handicapped customers welcome. Young – Elderly – Handicapped alike everyone gets in on the action!    
Coe Vanna's – Fishing Advantage.
Charter your Lake Erie fishing trips with us – when you limit out early on any of our charters –
you can spend the rest of your time fishing for another species at no extra cost.
Combo Trips -Walleye – Perch and Bass
Smallmouth Bass – Walleye and Perch are plentiful on Lake Erie's reefs.  Reefs attract fish and the western basin reef complex right by our marina makes for amazing combo fishing trips.
If it is smallmouth bass action your after Lake Erie has exceptional world class bass fishing!
On average, our bass fishing trips turn 30 to 90 bass per day.
Lake Erie yellow perch jerking – catching two and even three perch at a time on spreaders.
Daily perch limits of 30 per person, catches of yellow perch soar into the hundreds in a couple of hours!
Trophy Smallmouth Bass Fishing

Lake Erie is considered to be one of the best Smallmouth Bass fishing lakes in the world, 5 to 7lb bass are common!
July-August -September, and October are prime months.
Top quality rods, reels, bait and fishing tackle supplied at no extra charge.
Our superior walleye spinners are hand tied daily using the best quality components featuring premium deep cup hex pattern Colorado Gold plated spinners.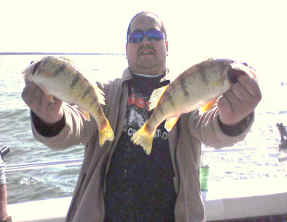 Our daily catches of yellow perch on Lake Erie are in the Hundreds!
July- August- September, and October are your best months for limit catches of Yellow Perch.
A great trip for kids – lots of action!  Prize table fare – food quality excellent!
Experience a wealth of fishing knowledge as Capt Dave shares his experience with his customers and gets them catching! Helping customers hook and land their own fish is one of the many blessings of a charter boat captain.
Get your best shot at a Trophy Fishing on Lake Erie.
Ladies our boats are furnished with private restrooms
  Coe Vanna is a Family Run Business, Time-Tested, Earned Reputation.
Expect the best as you go on our guided Lake Erie fishing charters.
Coe Vanna will put you on the fish and into the action!
Our business is built on happy satisfied repeat customers.
We take pride in our work and our reputation.
Planning ahead gets you the most out of your Lake Erie fishing charter.
Give me a call and I will answer any questions you have about fishing charters on the western basin of Lake Erie. Go over the best times and days that will work for you for walleye, smallmouth bass or perch fishing and lodging or any special requirements or requests you may have.
It takes years of Lake Erie Fishing experience to learn the movements, patterns, tactics, times and areas to produce consistent limit catches of walleye on Lake Erie. Coe Vanna offers the very best Lake Erie  Fishing Charters, walleye charter fishing in Port Clinton.  "Walleye, smallmouth bass, and perch fishing charter boats since 1973 "
Welcome Aboard, 
Capt. Dave Whitt 
Call or text  419-355-4732
Cell phone reception can be poor on Lake Erie.
Text messages will work.
We call you when fishing conditions are less than desirable due to winds – muddy water and advise you during such times offering you the opportunity to reschedule your Lake Erie charter fishing trip with us on a later date.