August 13, 2020
Lake Erie fishing report Port Clinton, OH
Walleye catching has picked up on the western basin west of the Islands with limits to respectable box's today
Spoons 60 to 65 back any where along the outside shelf break A can, B Can, C can, Niagara, D can.
Huron off Cedar point – east of Kelly's to east of Kelly's to the Canadian border.
Kelly's Island schoal and Gull will have a drift fishing bite soon!
As the days grow shorter and the water coolers drift fishing the reefs is looking very promising with so many walleye close by already.
Thankyou for the drought which means no alga
There are lots of fish in the western basin west of the Islands – we have no or very little algae bloom!
Smallmouth bass fishing is good.
Perch fishing A can to the Toledo intake – Limit limit catches today!
July 25, 2020 Lake Erie western basin fishing report
Small mouth bass and yellow perch fishing very good.
Yellow perch limits D Can F Can Toledo Intake, B Can, Toledo Harbor Light and The outer light or turn around buoy.
Walleye fishing has been spotty good one day, limit the next and a dozen the next. As the days grow shorter and the water cools the walleye bite will pick back up. Late August guessing perch and bass bite will intensify.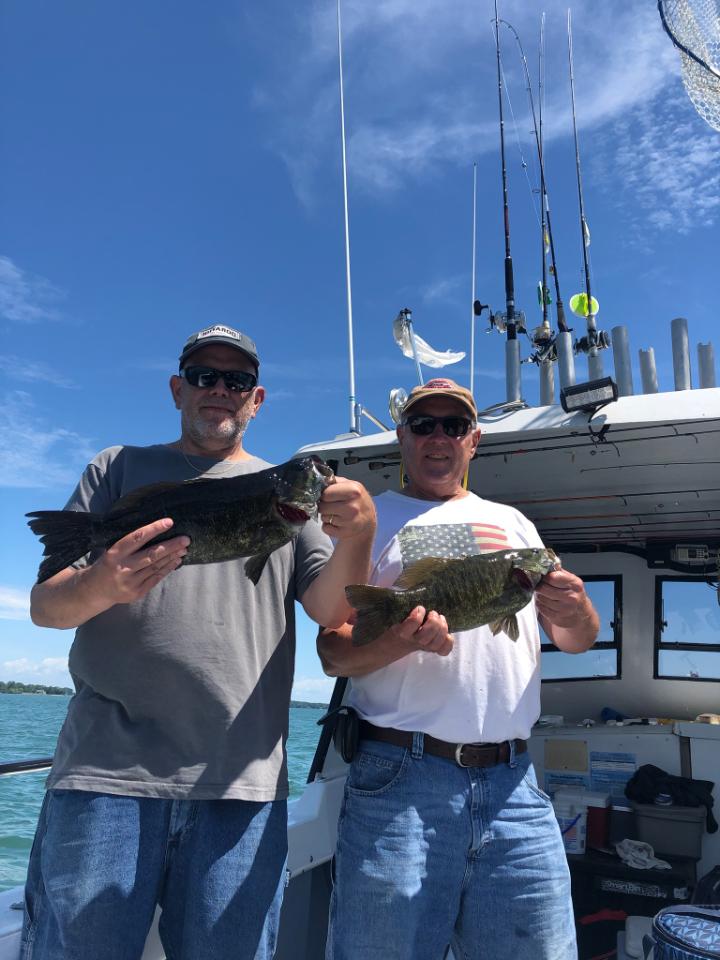 July 5 walleye limits are coming in daily best walleye fishing ever!
June 7, 2020 Lake Erie walleye catching is the best I have ever seen – better than the late 70's and early 80's! Port Clinton, OH The Heart of the Walleye Capitol of the world!
Crazy Fantastic walleye catching – Limit Limit Limit every where on the western basin of Lake Erie Drift fishing and trolling catch walleye your way. Saturday morning Capt. Rizo reported yahtzee at 10:30 am still fishing – drift fishing on dead calm seas with a crew of 7 aboard our big boat casting spinners! Saturday afternoon Capt. Coe Allen reported trolling twelve rods hooked up with walleye at the same time! Talk about fish catching walleye chaos action! 2 man – 6 man- 7 man charters and lodging availableCall or text Capt Dave 419-355-4732