Lake Erie Fishing Reports.
Presented by Capt. Dave fishing information and locations provided by Coe Vanna Charter Boat Captains working Port Clinton,  Sandusky, and Toledo waters of Lake Erie
Lake Erie Fishing Report August 14, 2017, Port Clinton, Oh
Walleye
Walleye in the western basin have and are continuing to put on their growth spurt. Lots of the short walleye are now sizing up 15 to 16 inches and because of the sheer numbers of these walleye making legal size the walleye fishing on the western basin is picking up. To put the odds in your favor to catch legal walleye focus on deep water reefs with shallow water near.
The shallows attract bigger walleye. This time of year take advantage of all the normal areas that usually produce fall walleye. Kellys Island Shoal, Gull, Chickenollie, King George, American Eagle, Mouse, Starve, West Reef, Niagara, Crib, Toussiant.  Cast spinners in the shallows and trolling crank baits or worm harnesses along the ledges.
There has been a lot of seagulls and sea birds on the shore lines indicating that there is bait there. So it is no surprise to me that walleye are showing here and being caught in the near shore waters. K Can, Crane Creek, and Catawba State Park after dark to name a few.  I would suspect all along the shore line if birds are present – bait is present and walleye will be there if not today check again tomorrow.
Perch
Perch fishing in the western basin remains spotty, Awesome size and decent numbers but not steady limits. We hope as the water cools they will school up tighter. Picking the catch ratio up. I am concerned that there seems to be a shortage of small perch which most likely have become walleye food and may hurt this fishery in the up coming years.
Bass
Bass fishing is ok not a smash by any means how ever we are turning an average of about 30 smallies in the 2 to 5 lb range per day. As the days grow shorter and the water cools walleye, bass and perch fishing should get even better.
Western Basin Lake Erie Fishing Report August 7, 2017
Perch fishing is picking up and the average size is fantastic for the western basin, 8 to 10-inch perch very little sorting. Niagara Reef, B, D, Kidney, Taco Bell on the Nort side of North Bass and near Ennis Reef on the Canadian border. Steady pick from D Can today and it was a slam dunk at Taco Bell. We went to Taco Bell with 20 perch after 2 hours of fishing and left with a boat limit of 180 two hours later. That's perch fishing up n down!! I expect these perch to move much closer to shallower water as the lake temperature drops.
Walleye on the western basin is very slow best I have heard is 20 trolling all day. How ever good eating walleye are making the grade every day passing the 15 inch mark – Lake Erie walleye put on their growth spurt in July and August so the majority of the short walleye are sizing up and should at least we are hoping for a good walleye bite as the water cools and the days grow shorter.
Smallmouth Bass action is ok not anything like the old days where we turned a hundred a day how ever good size bass and fair numbers are being taken around the Islands and reefs.
As the days grow shorter and the water cools walleye, bass and perch fishing will pick up.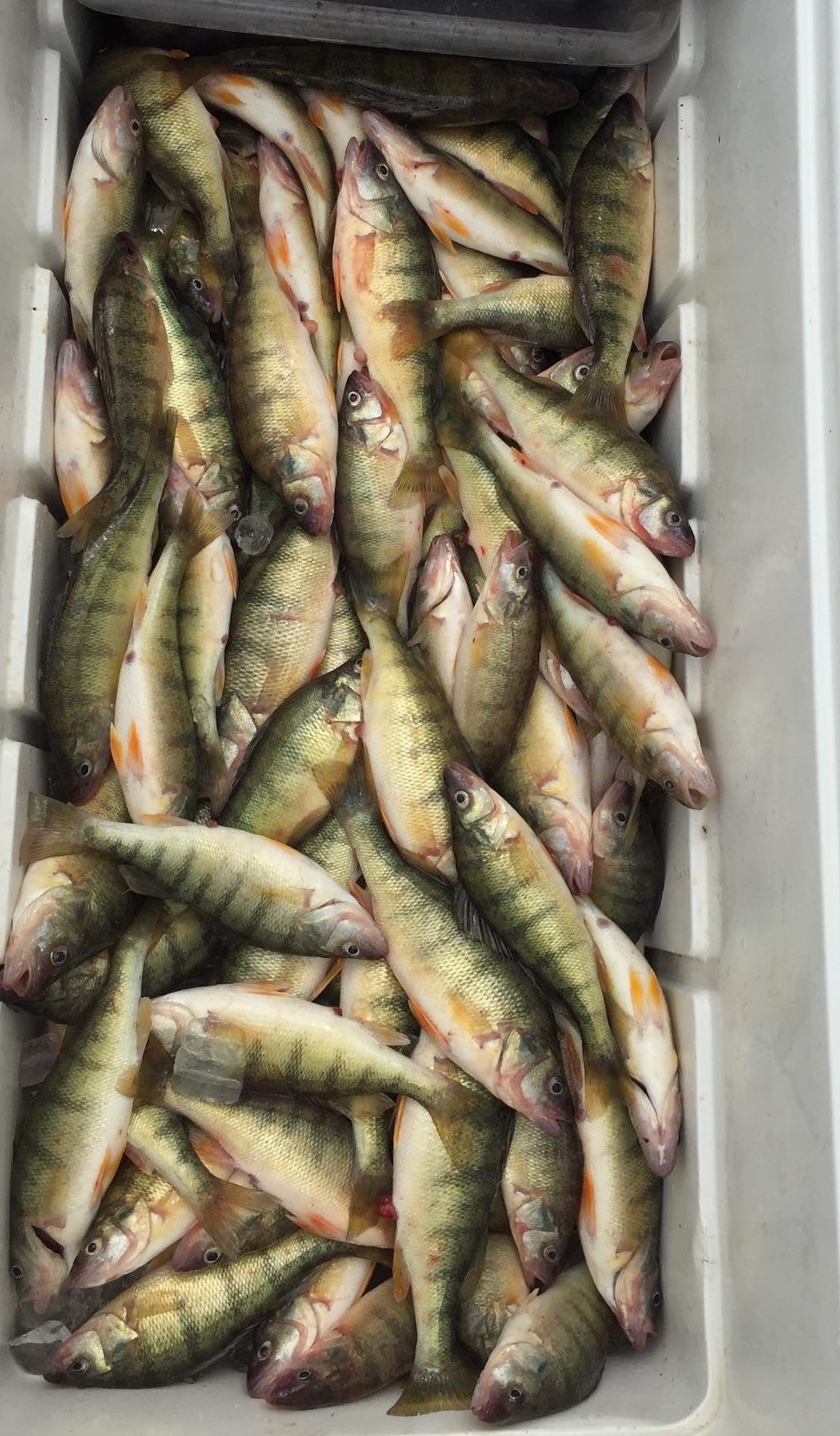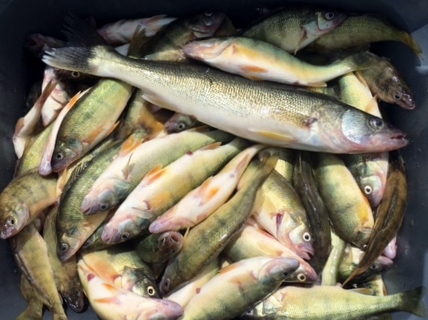 Perch Catches August 6, 2017
Lake Erie Perch, Bass and Walleye fishing Report, Port Clinton, OH August 1, 2017
Perch are starting in Lake Erie western basin and not just perch beautiful size 8 to ten inch on the average. The fantastic perch fishing we had last summer – fall is looking like the big perch have stayed in the western basin. Limit catches are being taken around B Can C can D can Niagara, G can, Rattlesnake and Green. Limit catches are not the norm yet but I look for this to change as the summer and fall progress.
Small mouth bass fishing is on we are seeing nice size bass and decent numbers around the bass islands and hard bottom along the reef shelves.
Walleye are putting on their growth spurt for the year and lots of the 14 1/2 walleye are now 15 1/4 I would not be surprised to see good walleye fishing ( limit catches)  in the western basin of Lake Erie this summer and fall as the numbers of these fish sizing up are huge. Don't expect big walleye this fall but lots of prime eating 15  to 18-inch walleye.
As the water cools and the days grow shorter this falls perch bass and walleye fishing out look is promising.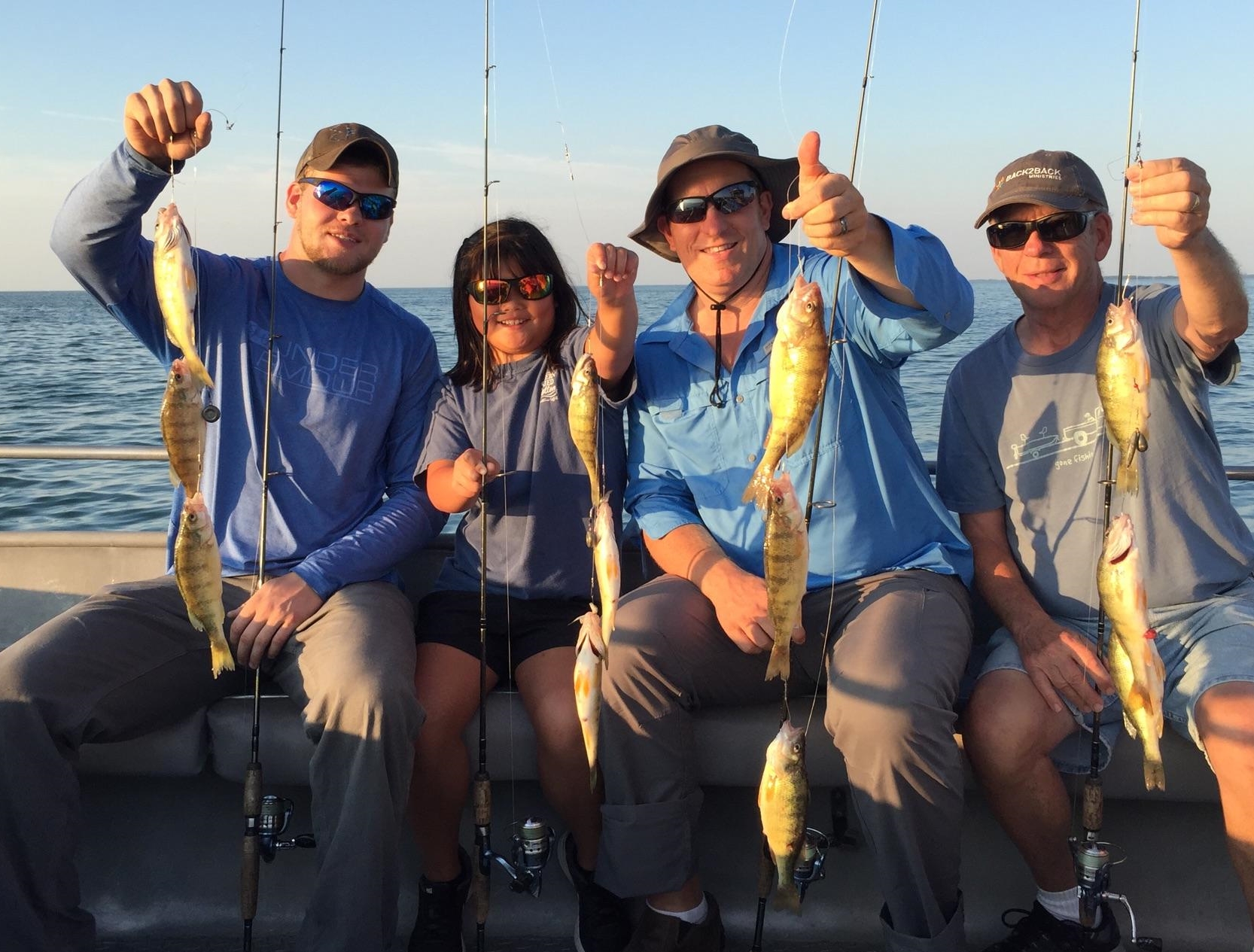 August 1, 2017, 10-inch jumbo perch
Lake Erie Fishing Report July 20, 2017
Walleye fishing on and near the reefs on the western basin is producing walleye however it is a spotty bite. Both the shallow reefs are holding and the out side reefs. Niagara, Crib, Toussaint, A can, and along the picket fence to G can. Other areas Toledo Intake 18 to 26 feet of water is producing walleye and perch. The Kidney and the Canadian border near East Sister as well as Green and Rattlesnake. Lots and lots of short walleye 14 to 14 3/4 I'm talking walleye in the hundreds easily. Drift fishing or trolling. There seems to be no rhyme or reason one day you catch a good mix of keeper walleye and take home a nice catch of walleye the next day the little ones totally take over and you bring home a few. The mayflies have about another week of heavy hatching – as the hatch slows the fishing should start to be consistent.
Perch fishing is spotty and good and the same here as the mayfly hatch winds down I expect the perch to be more aggressive. Perch are being taken near B and C cans, Near the Toledo Intake and the Toledo Light house, G can and near Niagara.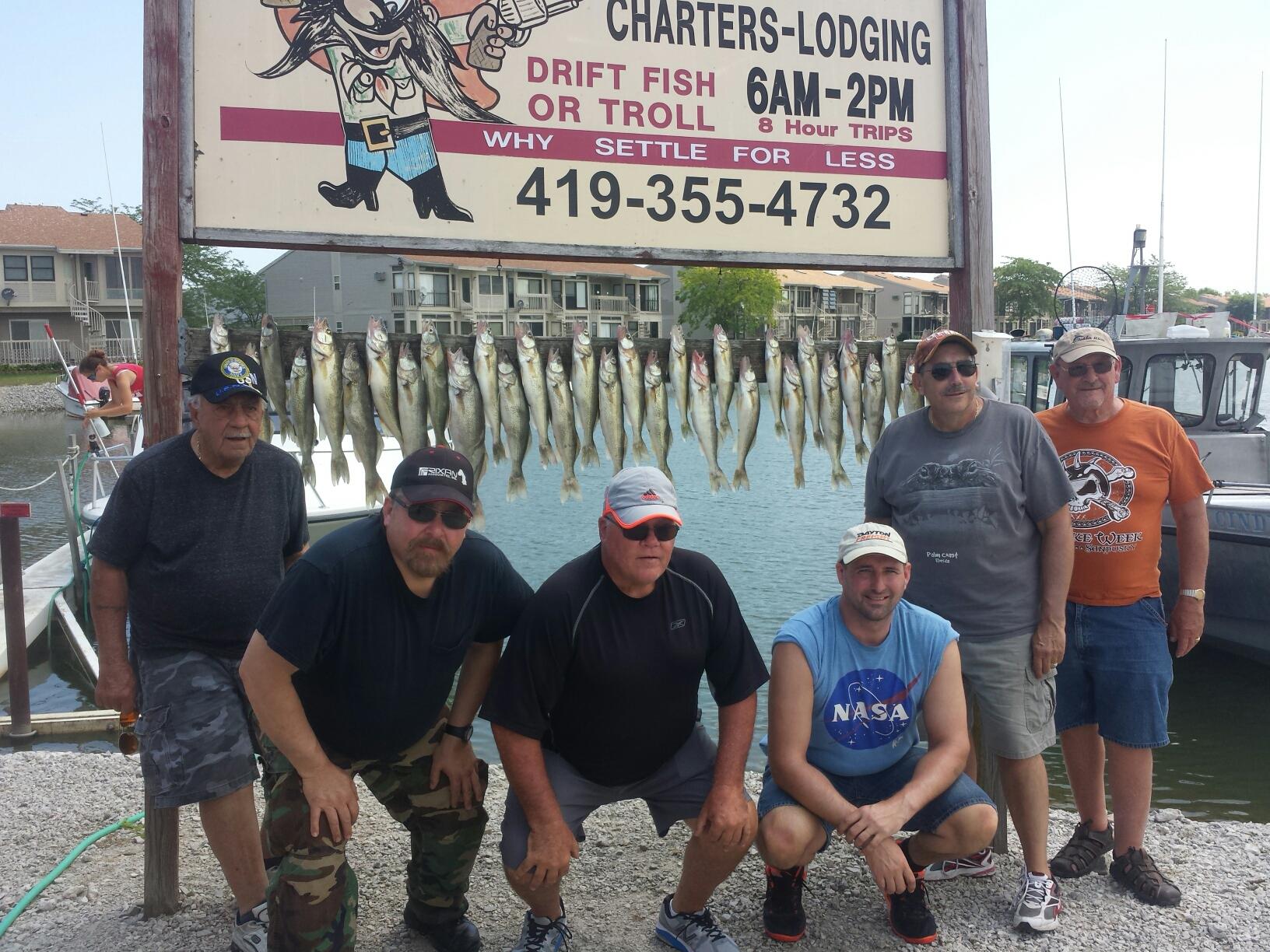 July 18 drift fishing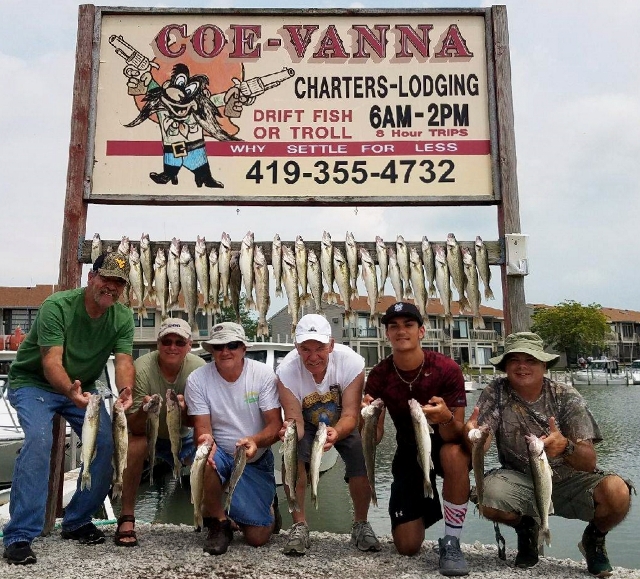 Rob B & Crew Walleye Boat Limit Drift fishing casting
Gold Weapons with Capt. Coe Allen – July 11
Lake Erie Fishing Report July 10, 2017
July is walleye and perch fishing season on Lake Erie's western basin, Port Clinton, OH Combo trips walleye and perch  July – August and Sept. Catches of both are being reported. Walleye and perch B Can, G can, Rattlesnake, Toledo Intake and in front of Crane Creek in 22 ft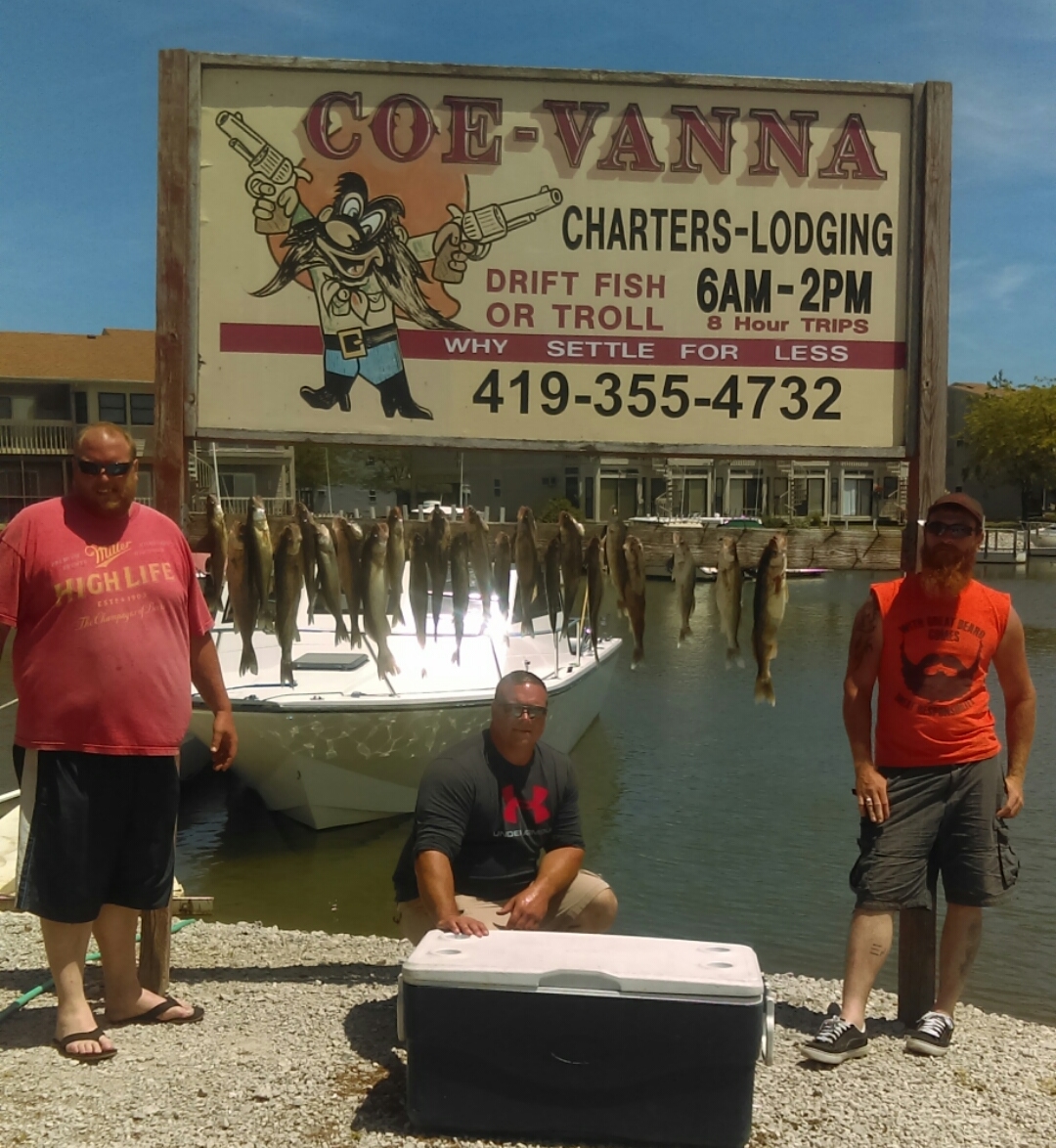 July 9
June 24, 2017, Lake Erie Fishing Report Walleye Perch- Bass Port Clinton, Toledo, Sandusky
Lots of Fishing Action July – August and Sept Walleye – Perch – Bass Combo Trips
June 24 Walleye fishing remains strong NNW of West Sister 3 miles, Toledo Intake, Crane Creek, All around the Firing Range east-west and outside edge. Lots and lots of walleye action a lot of scrappy 14 1/2 shorts along with 1 to 3 lb walleye. Some days the shorts are on fire making it hard to pull keepers other days 2 or 3 out of 4 make the cooler.
Perch fishing is getting under way with catches being reported near the Toledo Intake, B and D Can and around the deeper edges of the reefs.
Smallmouth Bass season opened today bass fishing has been ok we ran a catch and release trip yesterday and turned 20 bass with two people. One hawg 19 1/2 the others scrappy 2 to 3 lbs.
Walleye fishing NNW of West Sister near the Anvil and Tit 26 to 32 feet, Toledo Intake 16 to 24 ft,  Crane Creek 17 to 24 feet, D can, G and H can. Walleye fishing has been good. Better size fish are coming from or near the hard bottom. Casting gold weapons – trolling bandits 45 back, 2.5 mph, jets, and spoons. Lots of walleye some days more keepers others lots of small ones. Doesn't seem to be much rhyme or reason why one day better fish bite other than that's fishing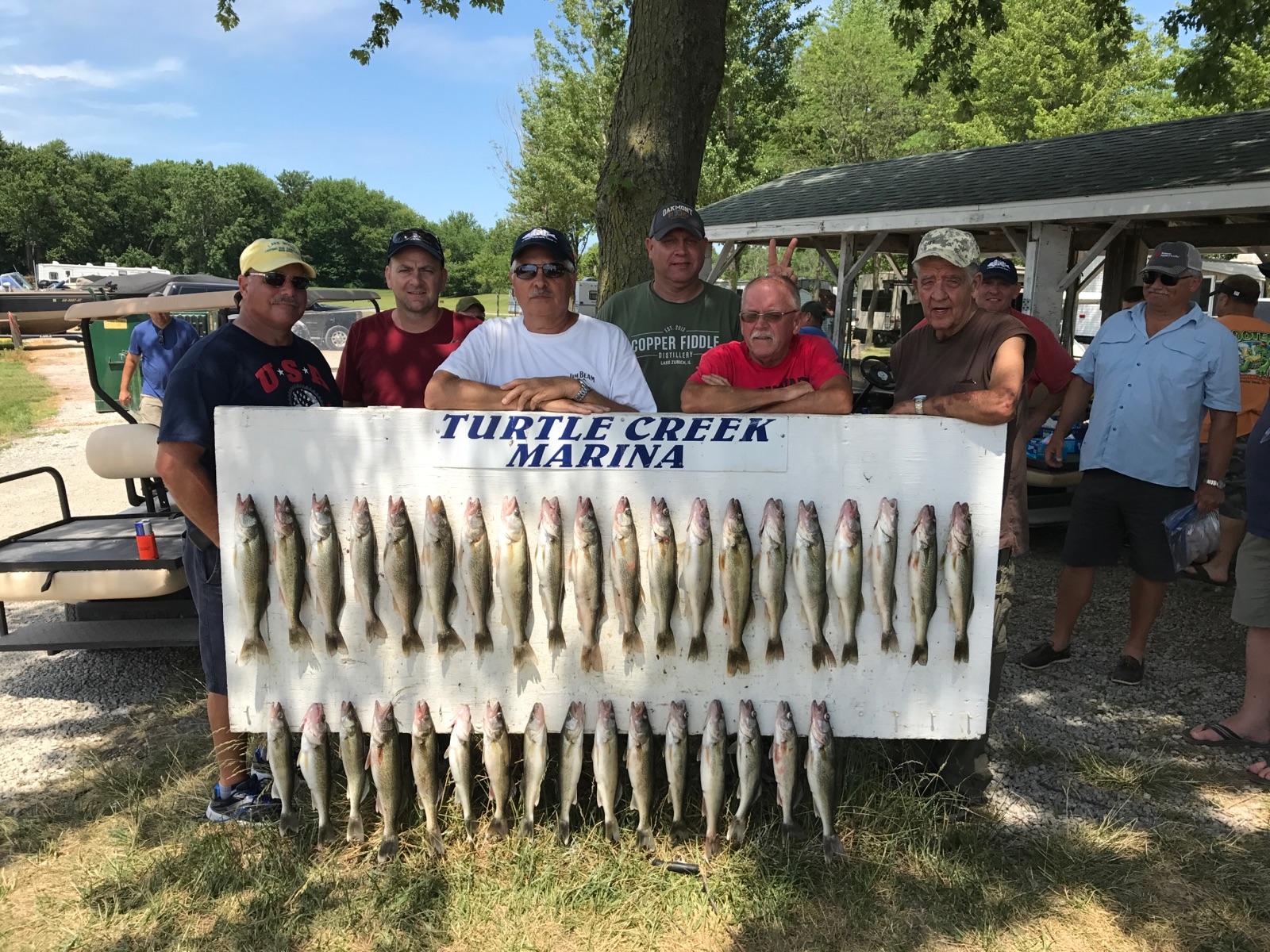 July 4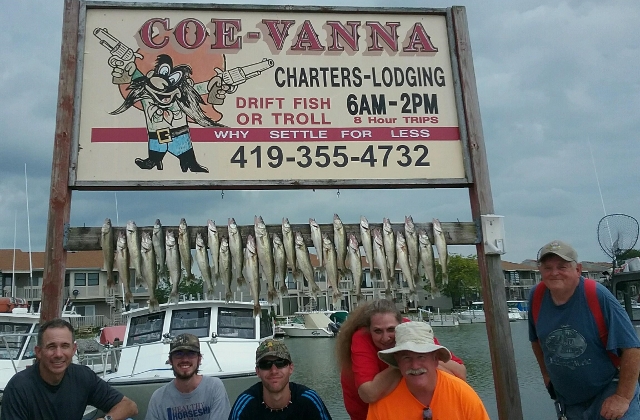 July 1 Kevin S and Family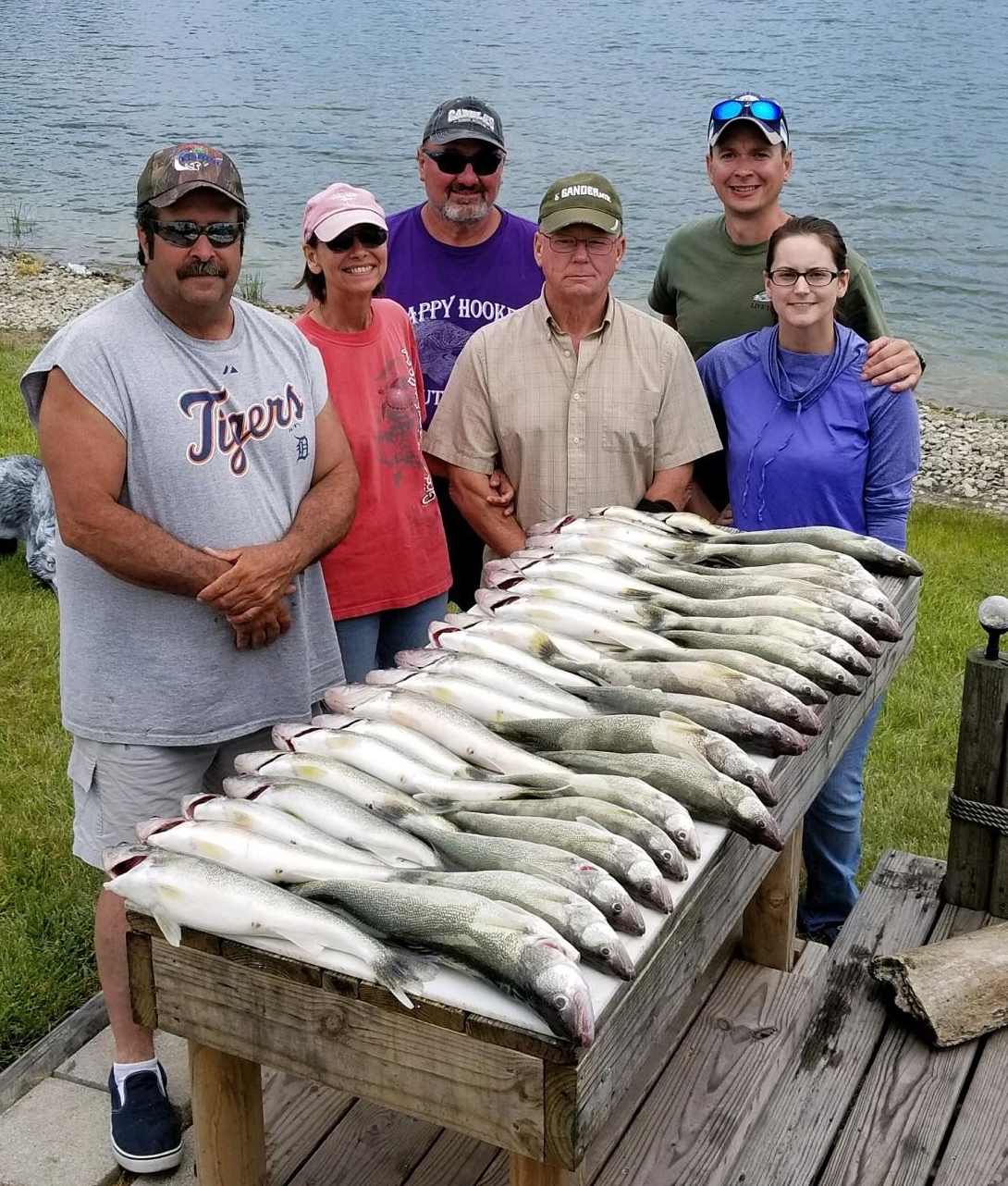 Limit Catches of walleye,
June  22 2017